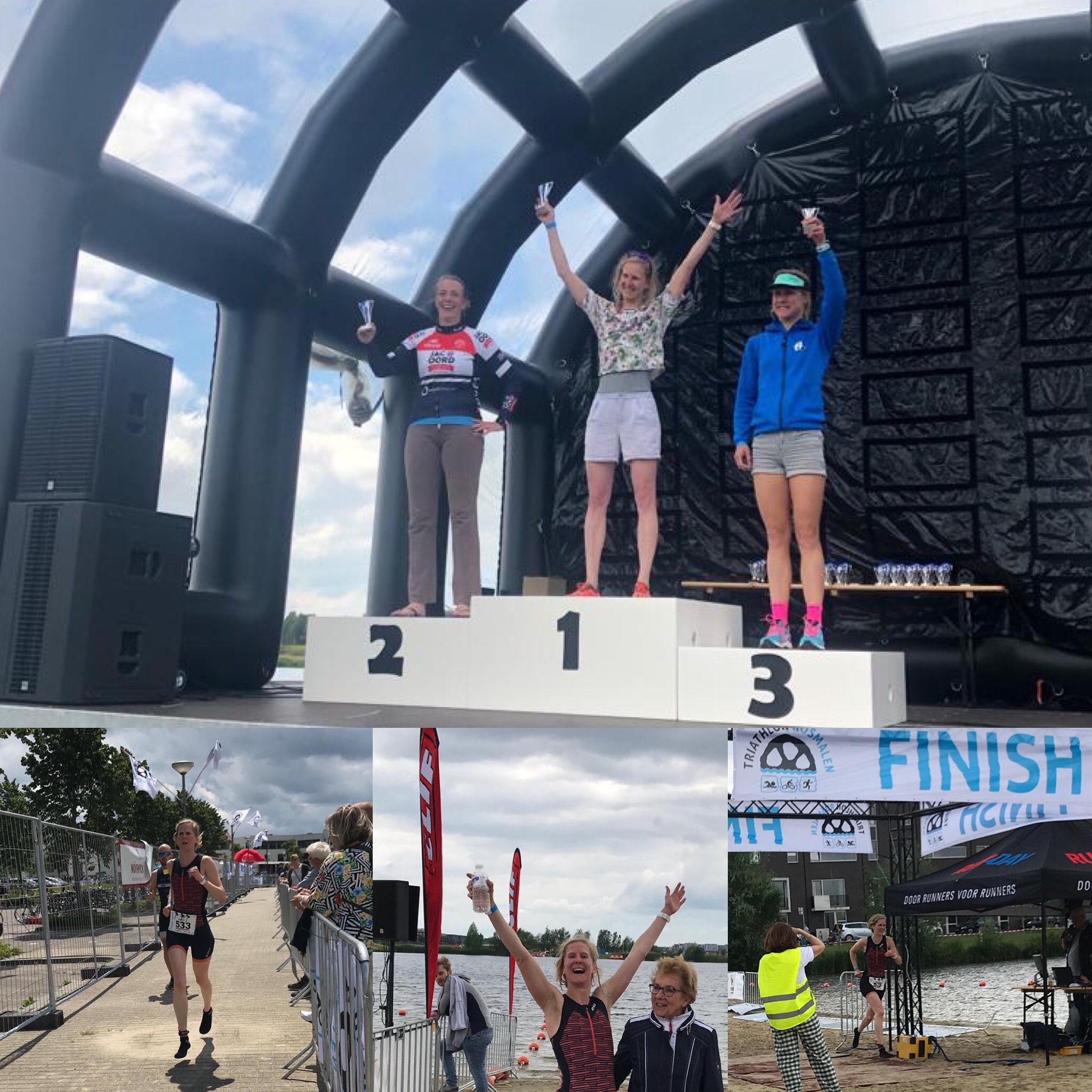 SEEING IS BELIEVING
Today I accomplished my second triathlon and it was another great experience! I finished (again) as 3th woman and this time nr 1 in my age category, wihoeee! My main goal was to find my rhythm with swimming. And I succeeded: visualization has been the answer.
First of all, 1/4 or 1/8?! I prefer the 1/4: you have more time to enjoy the entire ride! And I did, except the last ten minutes before starting: I was quite nervous, mainly for the swimming as this was really challenging two weeks ago during my first triathlon.
So what did I do to prepare for the swimming?! First of all, I took a few more swimming lessons and practiced in open water a couple of times. Moreover, I imagined what I wanted to do in the water. How? Visualisation works quite simple: close your eyes, focus on your breathing and visualise what you want to do. In my case; find a good rhythm for my front crawl and breathing. I repeated my "mental swim" before I fell asleep, while sitting in the train, during my mediations and continued to do this throughout the last two weeks. That is how we can train our mind! Instead of panicking (what kind of happened in the water last time) I knew what to do and I could swim my own race.
In my swimming there is definitely much more room for improvement, luckily, as I just started a few months ago with learning how to swim a front crawl. Nevertheless, I take it step by step and for now, I'm super happy that I was able to swim front crawl almost the entire kilometer and that I found my rhythm and good breathing.
The cycling and running both went smooth and I could really enjoy it! The speed I was able to manage during both cycling and running is definitely the result of interval training, thanks coach!
Note to myself, don't start the running too enthusiastic next time, than you might be able to avoid cramps in my upper legs.
The transitions went okayisch: I fell down in the first transition when I run out of the water on a slippery mat, and I couldn't directly find my bike (something with focus...) during the second transition. Also room for improvement
Finally, the atmosphere in Rosmalen was really good; especially during running there were many people in front of their house yelling, providing water and playing uplifting music - thanks for that. For sure that helps in speeding up! :)
For now, I m going to enjoy a beautiful glass of red wine and some lovely cheese and continue to visualize that one day I manage a full triathlon. Life is good as an athlete
#triathlon #swimming #cycling #running #breath #mindset #visualization #meditation #yoga #fun #nomountain2high #nm2h